Trunnion-Mounted Ball Valves
Tight shutoff is essential during oil and gas applications, and the superior anchoring of Forum's PBV® trunnion-mounted ball valves make them especially well-suited for large, high-pressure valve applications. To reduce torque even at high operating ranges, the trunnion-mounted stems absorb line pressure and minimize friction between balls and seats.
We manufacture all of our three-piece and two-piece trunnion ball valves to the highest engineering and quality standards. For example, these designs offer a standard feature of a secondary emergency sealant injection system that provides temporary seals to otherwise damaged areas. Forum's valve manufacturing also leverages a wide variety of certified materials that resist sulfide stress cracking and increase performance in corrosive environments. Correct material selection is essential to balance harsh effects from total system pressure, application temperature and elemental sulfur/chloride content.
Our entire valve catalog offers easy field service and numerous options such as stem extensions, locking devices, transition pieces and direct-mounted actuation.
Features: Three-Piece Trunnion Ball Valves
Sizes range: two to 56 inches
Pressure class: American National Standards Institute (ANSI) 150-2500
American Petroleum Institute (API) 6D design
Flanged ends, weld ends, flanged-X weld ends
Body material: carbon steel (dual-rated A105/LF2)
Full or reduced port
National Association of Corrosion Engineers (NACE)/fire-safe design
Self-lubricating steel bearings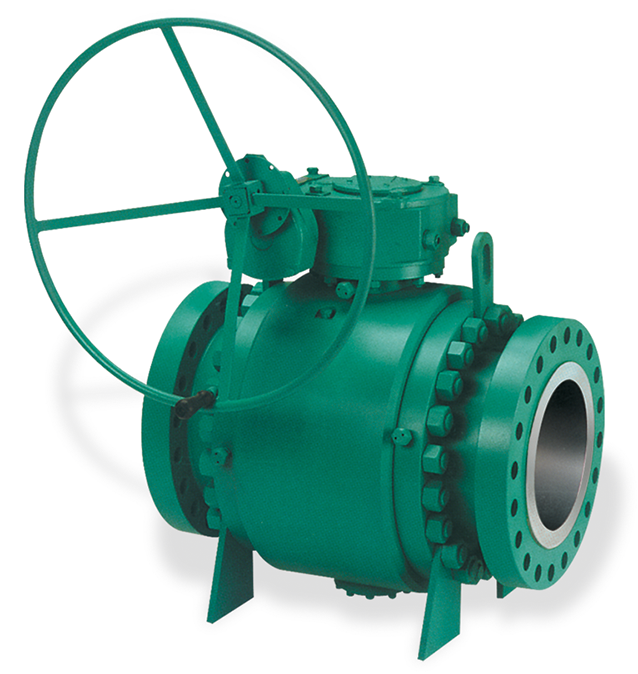 Features:Three-Piece Trunnion (Metal-Seated) Ball Valve
Literature and data available on request
Features: Two-Piece Trunnion Ball Valves
Size range: two to 12 inches
Pressure class: ANSI 150-600
API 6D design
Flanged ends
Body material: carbon steel (American Society for Testing and Materials A216 WCB/ WCC)
Trim: electroless nickel plating (316 stainless steel)
Full or reduced port
NACE/fire-safe design
Self-lubricating steel bearings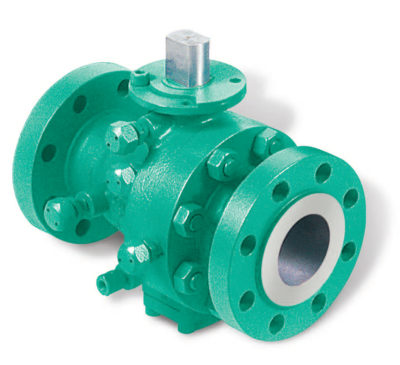 Tandem (Double Ball) Valves
Reliable, bubble-tight shut off is essential for isolation valves, but hostile service conditions – corrosive or abrasive environments and high pressures – place heavy demands on valve performance. Onshore or offshore, Forum's PBV® tandem ball valves withstand the most hostile hydrocarbon operating environments and provide positive shutoff for enhanced safety.
The advanced, integrated design offers numerous advantages over traditional single-isolation block valves. The unique design integrates double-valve functionality into a single body and creates true double block-and-bleed sealing. Focusing the full impact of oil and gas line media into the upstream valve permits the downstream valve to provide tight, bubble-tight shutoff and isolation that outperforms single valve systems. Each detail is designed to minimize maintenance even under extreme operating conditions, significantly reducing operational cost over the total valve life.
Our tandem valves are designed to the highest manufacturing standard including American Petroleum Institute (API) and American National Standards Institute (ANSI).
Features
Size range: 2-24 inches
Pressure class: ANSI 150-2500
API 6D design
Body materials: carbon steel (A105/LF2) and 316 stainless steel
Full or reduced port
Soft seat or metal seat design critical service
Special applications: metal-seated, alloy overlays, high/low temperatures, cryogenic services
Below Ground Extension
Features
High direct mount with gear
High-head direct mount with two-inch square operating nut
Pinion shaft extension with gear, side orientation
Pinion shaft extension with gear and miter box, upright orientation
Standard lengths: 48-, 60-, 72-, 84- and 96-inch (custom high-head lengths available upon request)
Weld Overlay Internals
Severe service areas can create difficult operating conditions that significantly reduce the working lifespan of oil and gas valves. Forum's full catalog of PBV valve solutions offer a variety of stainless steel and high-nickel alloy weld overlays for internal surfaces. The result is added protection for vulnerable areas and improved performance even within the most hostile environments.
For example, we offer Inconel 625 weld overlays that provide superior protection in challenging conditions. In one study, overlay and non-overlay valves were compared from the same worksite after six years of field service. The carbon steel balls with electroless nickel plating (ENP) were completely degraded from the heavy brine environment, while the Inconel overlay valves showed zero signs of pitting or corrosion.
A separate field study tested valves with seat pockets manufactured using Alloy 316L – a molybdenum-bearing austenitic stainless steel – and ENP plating. After extended hard use, field experts found no evidence of corrosion in the seat pockets or process-wetted area. After cleaning and refitting with new seals, the valves were returned to service for significant equipment savings.
All of our weld overlays are designed in accordance with standards from the American Society of Mechanical Engineers (ASME).
Features
Cost-effective options for ball valves in highly corrosive or erosive service
Extended valve life at a fraction of the cost of a solid corrosion-resistant alloy valve
Welding in accordance with ASME standard BPV Section 9
Available in seat pocket, seal areas and all wetted parts
Materials: 316 stainless steel or Inconel nickel-chromium alloys